Custom Countertops in Toledo, OH
Midwest Granite and Stone is Ohio's premier granite countertop fabricator and installation service. Since 2003, we've provided homeowners in Toledo, OH with exceptional-looking custom countertops for their kitchen, bathroom, vanity and more. Visit our showroom to browse our wide selection of colors and styles. Local Granite Dealer
Our family-owned and-operated company has served the Toledo area since 2003, giving us over 15 years of experience working hands-on with homeowners like yourself.
Learn More
Beautiful Custom Countertops
Nothing says "luxury" quite like granite or marble countertops in your kitchen and bathroom. These high-quality materials have been shown to last for decades and look spectacular. At Midwest Granite and Stone, we supply and install granite, marble, quartz and stone countertops for a variety of applications. Through our over 20 years of experience in the custom countertop industry, we've gathered the tools and expertise required to fabricate beautiful stone pieces to meet your needs.
Your ideas crafted with precision and detail
We don't only create kitchen countertops for our customers in Toledo, OH. Many of our clients have requested granite or marble countertops for their vanities, bar tops, bathroom counters and even fireplace or shower surroundings. No matter what application you're looking for, Midwest Granite and Stone will remove your existing countertop and replace it with a custom piece that's perfect for your home.
Not sure what type of stone will fit with your interior design? Visit our showroom, where we have countertop displays with hundreds of colors and stone styles to choose from.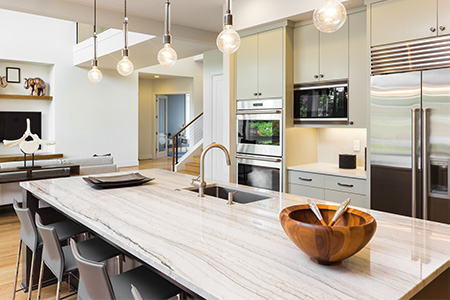 Get Started on Your Custom Counters Today
Midwest Granite and Stone is ready to create one-of-a-kind granite countertops for your kitchen. Contact us for a free estimate or visit our showroom today!
Providing you with exceptional service & quality workmanship
Midwest Granite and Stone has built its outstanding reputation on quality workmanship and attention to detail. Each countertop piece is meticulously measured and fabricated with care to fit in your space. Here are a few more reasons to choose us to create your new custom countertops in Toledo, OH.
We don't merely design and install kitchen countertops in Toledo, OH. We can also remove and dispose of your old countertops for your ultimate convenience!
Appointments with our fabrication team are available on nights and weekends by request. This allows you to fit home remodeling into your busy schedule.
We're happy to offer free estimates to all customers, during which we will measure your counter space and calculate the necessary square footage for an accurate quote.
Our installation team is fully licensed and insured, so you don't have to worry about your safety or the safety of your home.
Local Granite & Marble Dealer
Offering custom countertops and countertop installation to Holland, Toledo, and the following areas
Monclova, OH
Maumee, OH
Rossford, OH
Ottawa Hills, OH
Oregon, OH
Northwood, OH
Walbridge, OH
Waterville, OH
Swanton, OH
Neapolis, OH
Sylvania, OH
Bowling Green, OH
Napolean, OH